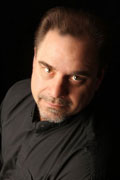 Larry Proietti
Owner
Larry Proietti started in radio way back in the mid-60's doing kiddie commercials for KKIS, Pittsburgh. The radio station was next to his mom's coffee shop. "I learned a lot from all the announcers, as well as the owner of the radio station at that time. However, when I was in high school or my first year of college, I never gave radio a second thought.
During, my sophomore year at Cuesta College in San Luis Obispo, California, I decided to go to work for our college campus station and I found my true calling. I did it all – announcing, news, sports play by play, and more. Later that year, I got my first part-time job at a commercial radio station KBAI-AM, Morro Bay, California. From there it was off to California State University, Chico, where I got my first full-time job doing afternoons at KSNR-FM, Red bluff in 1978.since then it has been a great ride with other stops in Colorado, Wyoming and now here in Kimball, Nebraska.
Throughout the years it has been a pleasure working with many people both in management and those in the trenches (announcers). I've learned a lot through my 30+ years in the business.
Most recently, my work with KRRR-FM in Cheyenne was a crowning achievement in my career. We took a struggling radio station in a rated market and turned into a market leader.
But, recently my thoughts have turned to the local ownership role. So when, the opportunity became available I decided to jump into this new venture. But, a coach is only as good as his ballclub, so I brought on-board 3 more people, who I know and trust that will help me become successful, as we bring radio to the people the way it used to be. Locally owned and operated. My staff is on the ground floor of something that will continue to grow bigger and better each and every day.
I hope you enjoy our hometown radio stations.